Metiix Cloud
no more tape, write data anywhere, un-breakable reliability
Overview
Cloud Backup Service Features
We want you to feel comfortable with your data protection solution. Our engineers know that backup is only one aspect of the equation. The solution needs to be secure, reliable, real-time, easy to manage, fast and efficient in terms of bandwidth, storage, and cost. We believe we have put together the perfect solution.
All of your data is protected in real time with little to no impact to the users or the network. Data is de-duplicated and encrypted at the local site before transmitting the data to the Metiix Cloud — reducing your protected data set to the smallest possible size before sending it across the wire.
Agent-less
Agent-less software deployment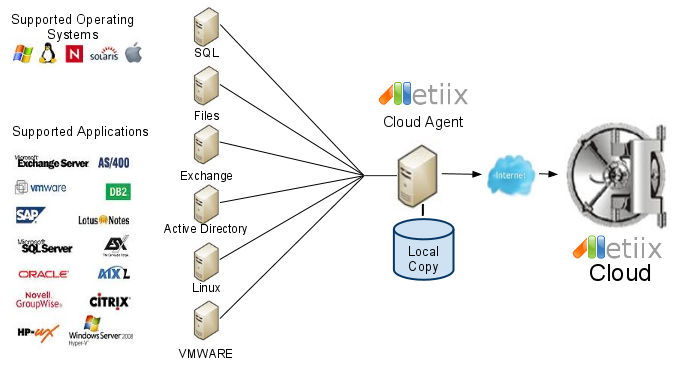 The Metiix Cloud Backup Solutions powered by AsigraTM requires no agents, which makes it easier to install and support than legacy backup and recovery solutions.
Backup and recovery software typically requires agents that are installed onto the host servers that a system administrator wants to back up. Even in a modest-sized environment, agent management can get extremely complex when an administrator is forced to deal with different operating systems and revision levels. The complexity of agent management is further complicated by the growing number of software packages that also require agents running on the same host servers, or what is also referred to as "agent pollution."
The Metiix Cloud Backup Service does not require any agents to be installed but instead reaches out over the network to back up operating systems, file systems, and applications, using industry standard programming interfaces.
Reasons Why Agent-less Is Better:
Agent-less architecture saves you time. Dealing with backup software agents is a cumbersome and mundane task that can be extremely time-consuming. Matching agent revisions with operating system levels, researching compatibility issues, and other labor-intensive tasks are nonexistent when using the Metiix Online Cloud Storage.
Agent-less architecture is easier to support. Additionally, many problems that occur while managing backup software are due to agent bugs and their incompatibility with host servers. Metiix Cloud Backup Services are inherently easier to support and the risk of problems is reduced as compared with other solutions because of its agent-less design.
Agent-less architecture is less resource-intensive. Traditional backup and recovery software puts agents onto servers and processing power is being stolen away from a server's core application to feed the needs of agents. The Metiix cloud Service makes no such demands of the servers it is backing up.
Multi-Platform
Supported on multiple platforms
We are able to protect all of your primary servers including Windows, Mac, Linux, UNIX, HPUX, and AS400. Metiix Cloud Backup Services delivers unlimited single point-in-time restores and full disaster recovery for physical servers, virtual servers, files, system state, registry, active directory, database, and single emails. Metiix protects for point-in-time and complete disaster recovery.
Metiix has settings for granular generation and retention policies and archive, as well as opening up the floodgates to hold unlimited history across the board. With Metiix Cloud Backup Services we back up across Operating Systems with uniformity and without agents. Coupled with managed support from our seasoned engineers, we can reduce the dreaded learning curve and time needed to deploy. Our managed service monitors the success of the online cloud backup service for you.
The ability to backup different flavors of operating systems from system state to files, applications, and all databases ensures that we are able to protect 100% of your data using our service and technology.
Metiix Cloud Backup Service directly supports the following and more:
Windows, IBM, Novell, Mac OSX, Solaris, Redhat
SQL Server, Exchange Server, Oracle, DB2, MySQL, PostgreSQL, SharePoint
Exchange, Single Message Email, Notes, Groupwise
VMware VSphere 4, ESX 3.5, ESX 3.0, ESXi, Workstation and Server
Citrix XenSource
Microsoft Hyper-V
Parallels and Virtual Containers
VADP
VM Support
Metiix Cloud Backup Service securely protects today's VM environments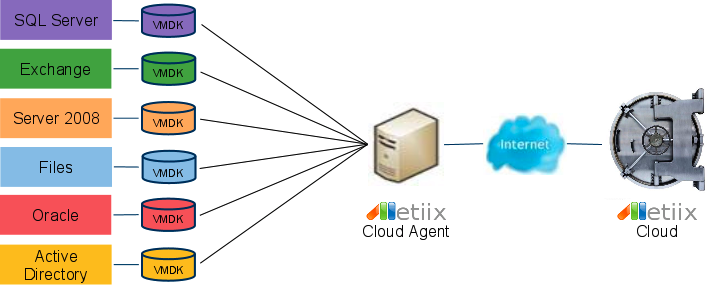 Metiix Cloud Server Backup Supports VM's
Live backup and restore of the VMDK for Disaster Recovery
Live Backup and recovery of SQL, Exchange, Oracle, SharePoint, Active Directory
Scheduled or continuous backup (CDP) of individual emails in Exchange, GroupWise, and Lotus Notes
Scheduled or continuous backup of files
Open file backup and protection
Support for 2008, Exchange '07 and '10, Vista, and Legacy OS
Support for Mac and Linux
Support for UNIX, Solaris, HPUX
Not only can the Metiix Cloud Agent reside on both physical and virtual machines, but it also supports backup/restore in Hyper-V, VMware, and XenServer environments, using their latest APIs, agentlessly!
Traditional backup and recovery strategies are not adequate to deliver the granular recovery demanded by today's business. More important, the cost associated with traditional or agent-based technologies essentially negates many of the cost advantages of virtualization.
Metiix Cloud Services provides a robust feature set ideal for virtual environments. We enable the enterprise to maximize their virtualization strategy while achieving superior information protection and recovery management without performance degradation.
In virtual environments, The Metiix Cloud Agent can be deployed on a virtual appliance or a physical box
Simple to implement, operate, & manage
Metiix Cloud Services backup/recovery solution has been tested and certified on a wide range of virtualization platforms including:
VMware VSphere 4, ESX 3.5, ESX 3.0, ESXi, Workstation, and Server
Citrix XenSource
Microsoft Hyper-V
Parallels and Virtual Containers
VADP
Metiix Online Cloud Storage removes many of the traditional hassles associated with the protection and recovery of VMs. It meets new data protection requirements that VMware ESX creates by:
Discovering new guest VMs
Centralizing backup configuration and management
Minimizing initial backup job configuration and ongoing management
Providing support for multiple backup sets. E.g., VSS aware backup sets such as SQL, Exchange, SharePoint, etc.
Broad application and operating system support
By delivering the means to auto-discover guest VMs on individual virtual servers and coupling that with the agent-less backup of guest VMs using CDP, incremental or VMDK-based forms of backups, Metiix Cloud Services fundamentally changes how companies can protect their virtual environments going forward.
Encryption
All data is encrypted before it leaves the site
You can choose from encryption options that range from DES 56-bit with an 8-character key, to AES 256-bit with a 32-character key. Every single byte of data is encrypted with a unique key that only you have access to. As an agent-less technology, we ensure that the data is encrypted on the site before it hits the WAN. Your data is safe and secure whether it is in-flight or at rest.
Backup data is automatically & securely transferred offsite using FIPS 140-2 certified encryption technology to the Metiix Online Cloud Storage.
Compression / De-Dup
Massive data de-dup and compression
To ensure the smallest amount of data is transferred to the Metiix Cloud and ultimately stored there, we deploy an advanced block-level de-duplication and compression technology at every site. Every file that passes through our Metiix client is sifted for duplicate files already protected. We will send only send the incremental block changes to files and we send and store only the unique files across an environment.
De-duplication and compression at the block level before transmitting data to the Metiix Cloud allows for the tightest algorithm possible when storing your mission critical data. Doing a block-level incremental on files, complemented with common file elimination across all servers participating, leads to less LAN/WAN traffic and less Metiix Online Cloud Storage consumed.
Continuous Protection
Continuous protection of all data
As data changes on a computer, we are able to detect the changes in real time, intervals or scheduled times—you choose. Metiix can protect data continuously, around the clock, with minimal CPU and bandwidth required to ensure that we have each version of a file as it changes. Only the blocks that have changed and found to be unique when compared to the index are sent to the Metiix Cloud. Continuous protection allows for limitless point-in-time recoveries and advanced long term archive/storage. This process ensures that we are protecting all of your data as often as possible with the smallest amount of disk storage being consumed.
With this level of protection, restore points for your data may be numerous and granular. With our ability to just protect and send unique changed blocks in real time or at a scheduled interval, Metiix dramatically lessens the burden on the system and the network as it trickles unique blocks of data to the Metiix Cloud.
Diverse Storage Options
We have the ability to store data wherever you need it
We have three types of storage, Cloud, Local-Only, & Private Storage. Choose what classification you want to apply to your data and hold it within the Metiix eco-system. Pre-qualify data within the Metiix to align its importance directly with the cost of storing it. Customers can keep the most recently created data or the most commonly accessed data up front and at the ready, while automating policies to archive older information.
Example: In a particular organization, data that is hours old may be more valuable as it relates to data that is months or even years old.
The Metiix Online Cloud Storage options present multiple, diverse tiers of storage to customers. This method allows a customer to select, via policy, what data resides where. Tiered content can be segregated via historical generations and retention policies, retention schedules around deleted data, date last accessed, or lifecol-md-/age. This ability to manage storage puts automated controls around cost and data growth.
More importantly, it improves the performance of the Metiix Cloud and the quality of experience per customer by magnitudes. By separating which data is stored in locally or within a private cloud and which data is stored in the Metiix Cloud, processing power is reduced dozens of times over. Data is more resilient and can be accessed to and from the Metiix Cloud Backup Storage at many times the speed of a traditional vaulted offering.
Compliance
Metiix Cloud Backup: SAS70, FIPS 140-2, IANA, SOX, HIPPA, GLBA
All data sent to the Metiix cloud is held in a secure environment and completely hidden from all prying eyes. Data remains encrypted up to AES 256-bit with a 32-character key both in flight and at rest from cradle to grave.
FIPS 140-21 certified - an independent third-party certification http://csrc.nist.gov/publications/fips/fips140-2/fips1402.pdf
Key escrow management
Password rotation support
Data destroyed with certificate of destruction
Zero breaches or compromised systems
IANA-registered ports
All data transferred and stored in compressed and encrypted format
Digital signature for every file and block of data
Data on disk resides in self-describing format
Background Autonomic Healing and System Admin
Restorability Validation Process (digital signature checks)
Metiix Cloud service runs quietly in the background with no human intervention – tape backups require manual intervention and thus are not compliant with regulations like Sarbanes Oxley (SOX), U.S. Health Insurance Portability and Accountability Act (HIPPA) and Gram-Leach-Bliley Act (GLBA), Payment Card Industry Data Security Standard (PCI DSS), Basel II, Safe Harbour, Patriot Act, American Recovery and Reinvestment Act (ARRA) and others.
Data is automatically & securely transferred offsite to the Metiix Cloud using FIPS 140-2 certified security requirements. Traditional backup architecture requires additional 3rd party products or manual involvement when transferring data offsite on disk or tape and is deemed insecure or unreliable.
Unlimited Versions
Keep as many versions of your data as your corporate policy dictates
Since we are only moving the changes in an "incremental forever" fashion after variable de-duplication, we are able to protect unlimited versions of every file that changes on the least amount of disk. Retaining numerous versions ensures the least amount of data is transferred over the network from each Metiix Client to the Metiix Cloud. Our unlimited version feature allows you to maintain a full view of a file from any point in time.
We are able to index each change with incredible speed; each difference is as minute as the delta recognition from generation to generation. The numbers of versions you select to hold are as disk friendly as technologically possible.
Incremental Forever
No more weekly full backups
After the initial backup of the data, any changes to the files are monitored, and only changed blocks are sent to the Metiix Cloud. If the file never changes and we stored a copy of it, we will never have to store that file again. Only incremental changes are sent after variable block de-duplication and global common file elimination.
We can continuously monitor the file system for changes and never require another full backup; only the original first copy of unique blocks of data need be captured the first day Metiix is deployed. We are able to recover files from any point in time without the need to move a full backup of the data ever again.
Validation
All blocks of data stored on the Metiix Cloud are validated automatically
Validation is a process we use to ensure that your data is recoverable when you need it. We take every block in our index and validate that it exists within our cloud as it existed when it was backed up. This way we can be sure that when we need to re-assemble all of the blocks that it takes to recover a single file, they will all be there. This process is automatic and occurs on a routine basis.
Validation of the files and their generations is how we can create an environment for bullet-proof restore. It is like routinely performing a pseudo-restore of your files. It allows the system to rebuild the backupsin the event of any type of disk failure or corruption.
Managed Support
Full managed support. You are always notified of failures
Our engineers will assist with the configuration of your backups and evaluating your retention and generations to optimize your data's information lifecycle. Our company will ensure you receive top-notch support from seasoned engineers from beginning to end.
Metiix Cloud Backup Solutions Offered:
Assistance identifying critical information and suggested protection strategies
Metiix Cloud install and configuration
Configuration of backup sets and schedules
Configuration of retention policies
Cloud Management rules for archiving and long-term history
Metiix will monitor your Cloud Service success on a daily basis ensuring you don't have to worry about your data security again.
Metiix will assist your IT staff and supplement the daily mundane tasks to ensure data is protected and secure at all times. Metiix performs tier two support to put you in alert mode with interrupt support for any occurrences that should require your attention.
Monitor all your cloud backups and alert you if they have been missed
Identify inefficiencies in your backups performance and recommend solutions
Email daily backup reports and logs
Manage and recommend Cloud and Local-only storage configurations
Ensure data retention and archiving functions are performed
Periodically review backup sets
Periodically review you IT infrastructure to identify any changes
Metiix provides you with daily and real-time summaries of the systems that you have protected with us, as well as how much data you have protected, and the health of that data. Our engineers will also notify you when problems are found within your backups and how to resolve those issues.
The idea is to never have to deal with your cloud backups on a daily basis and simply be notified when something is wrong. A smart service like Metiix leaves you alone until you need to deal with a problem that requires attention. You don't have to even think about backups, because our engineers are also here to watch for you.
Retention
Simple data retention rules
Retention is advanced and simple to configure. Metiix allows you to hold as many generations of your data as you would like. Control retention on a global level, or give specific retention rules down to a single file or database. Metiix makes compliance ready retention policy a snap. If you can dream up retention criteria, Metiix can achieve it.
Application Aware
Reliable application-aware cloud backups
Exchange, Message Level, SQL, Oracle, System State, etc…
The Metiix Cloud Service supports live "hot backups" and live "hot restores" of Exchange, individual Emails, SQL, Oracle, GroupWise, Lotus Notes, and System State for Bare Metal Restores. From our agentless platform the Metiix Cloud Server Backup provides for the protection of all types of environments and architectures.
For many administrators the protection of Exchange, individual emails, and live databases ranks at the top of the mission critical list. The Metiix Cloud Service features a hot backup and restore of VM Images, SQL, Exchange, and others, along with continuous data protection for individual emails.
Efficient agentless deployment and live Exchange backup at the brick level are just some of the enterprise features included with the Metiix Cloud Services. Just install the Metiix Cloud client on your host system and leverage your existing internet connectivity to manage all data protection processes centrally for seamless cloud protection.
Live Exchange Backup, Message Level Restore, Hot "live" SQL, Oracle, VM Ware, and System State, and CDP (continuous data protection), totally managed service.
Automatic
The service is automatic, requiring much less of your time
Our idea of performing backups is making sure that you do not have to do anything to protect your data. Our service is here to make that as simple a process as possible. Our engineers deploy the service, you tell us how you want things to be, and we take care of the rest.
We notify you if there are problems, or things that require your attention. But otherwise your required interaction with the cloud backup service is minimal. Metiix is always ready for a restore. Sleep well, our engineers live for this stuff!
Bandwidth Throttling
You can limit the bandwidth consumed for backups
We ensure that we do not consume too much bandwidth at different times of the day. Metiix can fine-tune our bandwidth consumption in relation to the amount of connectivity, to the Metiix Cloud.
When we architect a solution for a customer, we take all variables into account: the specific machine being protected, its average rate of data change from interval to interval, and that machine's proximity and connectivity to the Metiix Cloud where the data will ultimately reside.
Unlimited File Size
Protecting large files is no problem
There is no practical limit to the size of files that we can protect. Since we rely on blocks, we do not care how large a file is. It is simply a large set of blocks to us. So create away, knowing that we will protect each generation of every file that you want to protect.
In the case of databases and applications such as VM Ware, SQL Server, Oracle, Exchange or another type, Metiix can process large files, cut them up into pieces, and find the blocks that have changed prior to sending them across the wire. It's nice to know that no matter what file size you throw at us, we can handle it.